New Appreciative Way
Clergy Search Manual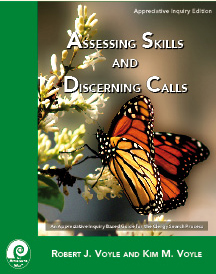 Contents:
Theological Perspective of the Search Process
Overview of Appreciative Inquiry
Designing a Transitional Ministry to Support the Search.
Conducting a Congregational
Appreciative Inquiry Summit
Developing Job Requirements
Evaluating Supplemental Written Questions
Evaluating a Structured Interview
Checking References and Past Performance
Assessing Work Samples Such as Preaching and Celebrating
Discernment; Vestry Interviewing and Simulated Vestry Retreat Exercises
Features:
Readily Adaptable to Specific Parish Needs
Copyright Licenses Available for Congregational Use
Augments Adjudicatory and National Church Procedures
Our Congregational Coaching Services
If you have questions about what would work best for you and your congregation send Rob an email and request a free consultation to explore what strategy would be of benefit to your community.
>> View our Consulting Services

>> Email Rob Voyle
for a Free Consultation


Assessing Skills and Discerning Calls
A comprehensive clergy search manual by Appreciative Way authors Rob and Kim Voyle.
The Appreciative Way suggests that we need to focus our search strategies on:
What are we as a congregation like at our best and where is our best taking us?
What do we want to become as a parish?
Once these questions are answered then the focus can turn to the candidates.
What are the candidates like at their best?
Can we as a congregation provide a context for the pastor to be at their best?
Can the pastor provide a context for the congregation to be at their best?
Can we together, congregation and pastor mutually discover God's presence and purpose?
Behind these questions is the idea that effective ministry occurs when clergy and congregations create a context that calls forth the best from each other, and within that best to discover the mystery of God's presence, purpose and calling.
This appreciative approach contrasts many search processes which ultimately get decided on whether or not each party can tolerate the worst that the other has done and is likely to do. The appreciative approach does not gloss over these problems or flaws but goes beyond them to discern if a positive foundation can be found to establish a productive ministry relationship.
Theological Perspective
We used the Biblical Model for the calling of Mathias (Acts 1:21-26) in developing Assessing Skills and Discerning Calls. When the Apostles needed to replace Judas they used a four step process:
They understood they had a purpose or mission to fulfill.
They set criteria for effective job performance.
They assessed potential candidates with respect to the criteria.
From a list of qualified candidates, discern who God is calling to the position.
These four steps are crucial for effective clergy calling. In our experience difficulties in the search process arise primarily for three reasons:
The congregation has little idea of its purpose and what it wants to become.
No clear search criteria are agreed to so the search committee members are simply looking for their individual ideal pastor without regard for the whole.
The tasks of assessing skills and discerning calls is confused. Assessing competence is an essential prerequisite to engaging in discernment.
It is impossible to effectively engage in discernment when some of the candidates being discerned over are incompetent with respect to the criteria.
Search Consulting Training
Learn the Appreciative Way to coach a congregation through their search for a new leader.
>> Clergy Search Consultant Training

>> View other titles in the Appreciative Way series


Quick Links
Purchase Clergy Search Manual

Register Your Search Manual

Register for Training Programs
What Clients Say
The Rev. Robert Voyle was invaluable to making our search process a success. He led the committee members in Appreciative Inquiry exercises to build up the relationships of the team members and to begin to articulate some common understandings of the core values of our diocese.
Rob coached us to keep a clear perspective of what we had discerned as the skills and gifts necessary for our next bishop and to let this guide our work. He was also at the other end of the telephone or email when specific issues came up that would be helped by his experience and knowledge.
Joanna Shreve, Co-Chair Diocese of El Camino Real Bishop Search Committee
Rob's combination of organizational savvy, teaching skills, theological & spiritual integration, and ability to rapidly build supportive, learning communities is quite simply the best in any of the churches today.
Gray Temple, Episcopal Priest, Author & Coach
Subscribers receive monthly Appreciative Tips and notification of our upcoming training programs.
Privacy: We never rent, sell, or share your email.