Appreciative Way
Clergy Search Manual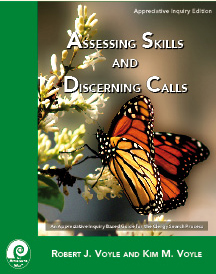 380 pages of templates, guides, and worksheets to assist you in your search.

Contact Information
We are located in Hillsboro, Oregon, and provide training programs nationally and internationally and telephone based coaching.
Mailing Address:
24965 NW Pederson RD
Hillsboro, OR 97124
General Inquiries Can Be Made By:
Email: General Inquiries
The Director of Training Dr. Rob Voyle: Email Rob
The Program Administrator Dr. Kim Voyle: Email Kim
Telephone: 503 703 3807
For Training Registration: Online Program Registration
Hosting a Training Event
Please contact Dr. Rob Voyle if you are considering hosting an appreciative inquiry training program for a group. We can provide Clergy, psychologists, and BCC coaches continuing education programs at your location. Please check the list of Training Programs for currently available programs. We can also create programs to meet you specialized requirements.

Stay Connected
Receive The Appreciative Way our Free Email Newsletter
Subscribers receive monthly Appreciative Tips and advanced notification of our upcoming Training Programs.
Privacy: We never rent, sell, or share your email.