New Resource!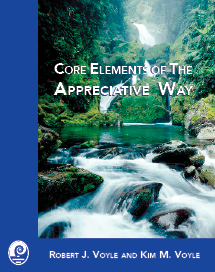 Discover the essentials of the
Appreciative Way in this fast
read format book by Rob and
Kim Voyle.
The Clergy Coach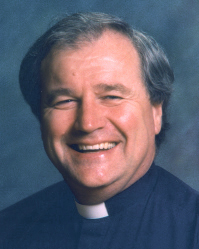 The Rev. Dr. Rob Voyle is a leader in the development and use of appreciative coaching in his work with clergy.
Appreciative Coaching
Our appreciative way of coaching uniquely blends Appreciative Inquiry, the work of Milton Erickson, and Contemplative Spirituality.
Types of Coaching
Appreciative Coaching can be used in a variety of settings and for many purposes. Here are just some of the types of coaching we provide.
>> Spiritual Coaching, or
Spiritual Direction

>> Organizational Coaching
and Consultation

Coach Training
We offer a blend of residential intensives and teleconferences to train you to appreciatively use your gifts for the benefit of others.
>> Appreciative Coach Training

Continuing Education
We are approved sponsors of Continuing Education for Psychologists and Coaches through the APA and BCC.
Please contact Dr. Robert Voyle, if you have questions regarding the suitability of a program to meet your continuing education needs.

Appreciative Coaching
Our Appreciative Coaching is based on the Appreciative Way, Rob and Kim Voyle's synthesis of:
The practice and philosophy of Appreciative Inquiry
The work of Milton Erickson and his students
Positive Psychology
Compassion as the agent of transformation
Contemplative Spirituality
The Appreciative Way synthesis results in a transformational model of coaching that is:
Incarnational
We respectfully join you in your world and journey with you to your future, rather than drag you into our world.
Compassionate
We use the three archetypal energies of compassion, tenderness, fierceness, and playfulness, to care for you, challenge you, and liberate you into your future.
Future Oriented
Since you will spend the rest of your life in the future we want that to be a future of your choosing and making. We help you establish positive goals and discover the resources you need to create your preferred future.
Lived in the Present
We help you discover how to live gracefully in the current moment, for the path to the future is found by living fully in this present moment.
Informed by the Past
We see your history as a treasure trove of resources that you can use positively to inform your present actions and inspire your future.
Solution Focused
We help you find solutions to problems rather than focus on causes and blame for past failures and problems.
Strength Based
We help you grow your signature strengths and skills rather than focus on eliminating your weaknesses. By growing your strengths your weaknesses are made irrelevant to the pursuit of your future.
Values Based
We help you discover and integrate your personal values into how you live and work so you can live with integrity.
Spiritually Sensitive
We believe people are spiritual beings on a human journey. Rather than impose our spiritual outlook on you we help you access and use your spiritual resources, as you understand them, to achieve your goals and manifest your purpose in the world.
Purpose Centered
We believe you were created for a purpose and have all the resources you need to fulfill that purpose. Abundant life flows when you are living in harmony with your values and manifesting your purpose in the world.
Love Inspired
We believe that at the heart of the universe is a Heart of Love that embraces both coach and client and accepts us gracefully without condition. This heart of love is the Source of our existence and the essence of our life. Growing in living and liberally sharing that love is the fruit of Appreciative Coaching.
For more information about our appreciative approach to coaching please see:
Check Out Our Coaching Services
Are you still wondering if our coaching would be helpful to you?
Check out our Just-In-Time Coaching Services. You can send Rob an email and request a free 30 minute session to explore whether coaching with Rob would be of benefit to you.
>> Just-In-Time Coaching Services

>> Obtain the Coaching Letter of Agreement

Coach Training
In addition to providing Coaching, the Clergy Leadership Institute also provides appreciative inquiry based Coach Training for those who would like to develop their coaching skills.
>> Appreciative Coach Training

Our Certificate in Appreciative Coaching program is especially oriented toward training clergy to coach: peers, staff, and volunteers; and psychologists and counselors who are interested in coaching clergy and consulting to congregations.
>> Certificate in Appreciative Coaching


Thinking About a
Coaching Career
Check your suitability for becoming a coach.
What Participants Say
Rob will enhance your ability to delight in yourself, your neighbor and God through his insightful, practical, loving, professionally grounded, appreciative and often mischievous coaching and teaching skills; and that will make you a better leader and citizen in God's creation.
Ed Leidel, Episcopal Bishop and Congregational Coach serving North America
Rob's appreciative coach training helped me to rethink the way I approach and provide therapy; Thanks!
Dr. George Moses, Pastoral Counselor
After 45 years in the pastoral ministry and attending three events led by Rob Voyle, I have finally learned a better way to help church leaders help themselves and the people they serve.
John Wilkerson, Director: Church Leadership Coaching & Consulting
Rob's combination of organizational savvy, teaching skills, theological & spiritual integration, and ability to rapidly build supportive, learning communities is quite simply the best in any of the churches today.
Gray Temple, Episcopal Priest, Author & Coach
Subscribers receive monthly Appreciative Tips and notification of our upcoming training programs.
Privacy: We never rent, sell, or share your email.