Director of Training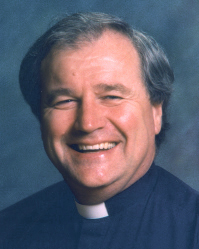 Episcopal priest
Psychologist
Executive Coach
Rob is an accomplished speaker and trainer. Participants consistently rate his training programs as:
"one of the best workshops I've attended in years"
>> See Rob's Helpful,
Humorous, and Healing
approach to training

The Appreciative Way
The Appreciative Way, is Rob and Kim Voyle's synthesis of:
The practice and philosophy of Appreciative Inquiry
The work of Milton Erickson and his students
Positive Psychology
Compassion as the agent of transformation
Contemplative Spirituality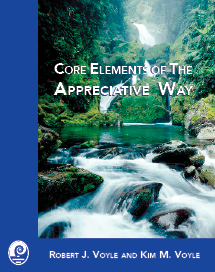 Discover the essentials of the
Appreciative Way in this fast
read format book by Rob and
Kim Voyle.
Appreciative Inquiry
Training
Our foundational program that serves as an introduction for Coaching, Interim Ministry, and Leadership Development.
Coach Training
We offer a unique coach training program that blends Appreciative Inquiry, the work of Milton Erickson, and Contemplative Spirituality.
Interim Ministry
We use the Appreciative Way as the foundation for our year-long Certificate in Appreciative Transitional Ministry training.
>> Appreciative Transitional
Ministry

Leadership Training
Take your ministry to another level by learning the core competencies of Appreciative Leaders.
Continuing Education
We are approved sponsors of Continuing Education for Psychologists and Coaches through the APA and BCC.
Please contact Dr. Robert Voyle, if you have questions regarding the suitability of a program to meet your continuing education needs.
Subscribers receive monthly Appreciative Tips and notification of our upcoming training programs.
Privacy: We never rent, sell, or share your email.

Introduction to Appreciative Transitional Ministry
Appreciative
Transitional
Ministry

Apply appreciative inquiry to transitional contexts.
Create an incarnational ministry to meet the unique needs of a congregation.
Learn appreciative inquiry responses to conflict, grief, and resentment.
Lead an appreciative Inquiry Summit to establish vision and purpose.
Introduction to Appreciative Transitional Ministry
Appreciative Interim Ministry or AIM pays particular attention to what the Transitional Minister "aims" for during the interim time. Rather than relying on a "one size fits all" formula for interim ministry AIM provides an incarnational way to join a congregation and develop a unique ministry for each ministry setting.
While designed for intentional interims, this program would be helpful for any clergy starting a new ministry or congregational consultants.
This introductory program is part of our Appreciative Interim Ministry Certificate program.
Some of the training topics will include:
Establishing Goals for the Interim Time
The Incarnational Ministry Fractal
Joining the System
Assessing Congregational Performance
Developing Vision, Purpose and Plan
Identifying Resources, Moving From Problems to Solutions
Responding to Grief
Growing Collaboration
Leaving Strategies
Eligibility
This program is built on the core understanding of Appreciative Inquiry and is open to those who have completed the Clergy Leadership Institute Appreciative Inquiry training.
Who Should Attend This Program
Clergy engaged in transitional ministry
Clergy beginning new ministries*
Psychologists, Consultants and Counselors
who work with clergy and churches in transition
*Because this program focuses on issues of transition and entering and joining systems it is very applicable to clergy who are entering "settled" ministry settings and not just those in intentional interim ministry.
Continuing Education Credit
This program qualifies for 14 contact hours of continuing education credit.
>> Continuing Education Programs

Learning Objectives
To provide participants with a basic understanding of the work of Trnsitional Ministry utilizing an Appreciative Inquiry philosophy and process.
To provide participants with an incarnational model of interim ministry that enables clergy to effectively join with diverse congregations and enable effective leadership transitions.
To provide participants with ways of assessing and formulating strategic, appreciative, interventions in the life of the congregation during the transitional time.
Workshop Format
The workshop will typically be conducted in a retreat setting with:
Didactic presentations
Practice and experiential exercises
Time for personal reflection and synthesis
Typical Workshop Schedule:
The following is a typical workshop schedule. The exact schedule may vary depending on location.
For each specific program a flyer with dates, schedule times, and continuing education hours can be found on the training schedule page.
This program usually starts after lunch on the third day of the appreciative inquiry training.
Day 3:
1:30-3:15 pm Session 8
3:15-3:45 pm Walking Meditation and Reflection
3:45-5:30 pm Session 9
Day 4:
9:00-12:00 Session 10
12:00-1:30 pm Lunch
1:30-3:15 pm Session 11
3:15-3:45 pm Walking Meditation and Reflection
3:45-5:30 pm Session 12
Day 5:
9:00-12:00 Session 13
Specific times and costs may vary depending on the sponsoring organization.
Please check the schedule and registration page for additional workshop specific information.
Note: The above schedule includes meals for commuters. When residential accommodation is provided, residential participants will also be provided with Breakfast and Supper during the course of the week.
Costs for 2020
Tuition Fee
Early Bird 4 weeks before session:
Within 4 weeks of session:
$375
$425
Participants who register at the same time for the consecutive Introduction to Appreciative Inquiry and The Introduction to Interim Ministry program will receive a $50 discount.
Accommodation
Accommodation and facility use fees are extra and are dependent on the training locations and will be specified on the registration forms. Meals between sessions are typically provided for commuters.
Presenter
Rob Voyle is an ordained Episcopal priest, psychologist, and coach. He is the Director of the Clergy Leadership Institute. Rob's parish ministry of over 20 years was primarily in the field of Interim Ministry. He is the organizer of the Transitional Ministry Network and is a past coordinator of the National Association of Episcopal Interim Ministry Specialists.
Rob is the originator of Appreciative Interim/Transition Ministry which is the result of his twenty five years of experience in Transition ministry and organizational consultation.
Registration for Workshop
To register for the workshop please go to the training schedule and select register for the appropriate workshop. For additional information please contact Rob Voyle
What Participants Say
"I have been fully engaged emotionally, intellectually, and spiritually. Thank you for touching me at the core of my being."
M.E. Member of the UCC Church.
"Of all the training I have been to, your notes are the ones I keep coming back to time and again for practical resources."
P.W. Conference Pastor.
Rob's training is full of heart, wit, and passion.
E.R. Executive Coach
Rob's educational model brings body, mind and spirit together. I have been challenged intellectually, transformed spiritually, touched emotionally, gathering in communally. He came into my life at just the right time.
Jean Holmes, Presbyterian Pastor
Rob's appreciative coach training helped me to rethink the way I approach and provide therapy; Thanks!
Dr. George Moses, Pastoral Counselor
After 45 years in the pastoral ministry and attending three events led by Rob Voyle, I have finally learned a better way to help church leaders help themselves and the people they serve.
John Wilkerson, Director: Church Leadership Coaching & Consulting
Rob's combination of organizational savvy, teaching skills, theological & spiritual integration, and ability to rapidly build supportive, learning communities is quite simply the best in any of the churches today.
Gray Temple, Episcopal Priest, Author & Coach
Rob will enhance your ability to delight in yourself, your neighbor and God through his insightful, practical, loving, professionally grounded, appreciative and often mischievous coaching and teaching skills; and that will make you a better leader and citizen in God's creation.
Ed Leidel, Episcopal Bishop and Congregational Coach serving North America